So, earlier today I linked to the New York Times article about Wardenclyffe, Tesla's lab in New York, that is being sold for $1.6 million. Right now, The Tesla Science Center is trying to raise the money tobuy the land, prevent the lab from being torn down, and turn it into a museum.

So I am here to help them, with the blessing of my father, who claims he is Tesla's living reincarnation.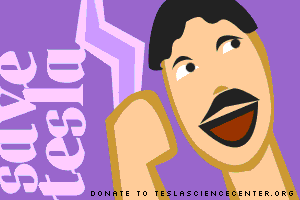 They don't have a paypal button up yet and can only accept checks, so if you would like to give money to help preserve the place where Tesla almost invented wireless electricity-- and that still has GIANT WALK-IN BATTERY CELLS, I would like to offer up my own paypal to forward the money to them.

If you donate $20 or more, I will totally draw you a picture of Tesla to your PG-rated specifications. That is my incentive to you. It might take a while if a lot of people donate, but I will draw lots and lots of Tesla if need be. Tesla eating cookies. Tesla writing his name on the moon with a moon laser. Tesla inventing Peeps. Tesla as a bunny rabbit. You name it.

If you can't donate that much money, please consider donating a small amount. If you and your friends want to pool your money for a pic that is okay, too. I just had to set a threshold for offering art.

Plus, if anyone would like to pass this along, you can use the nifty copy/paste code below:



If anyone else would like to offer gifts to people who donate, please comment below.