And he said I am getting a little carried away with the Tesla art. Then he found out that people actually gave me money to do it, and he donated $25.

This one is in response to a request for art "inspired by the Prestige."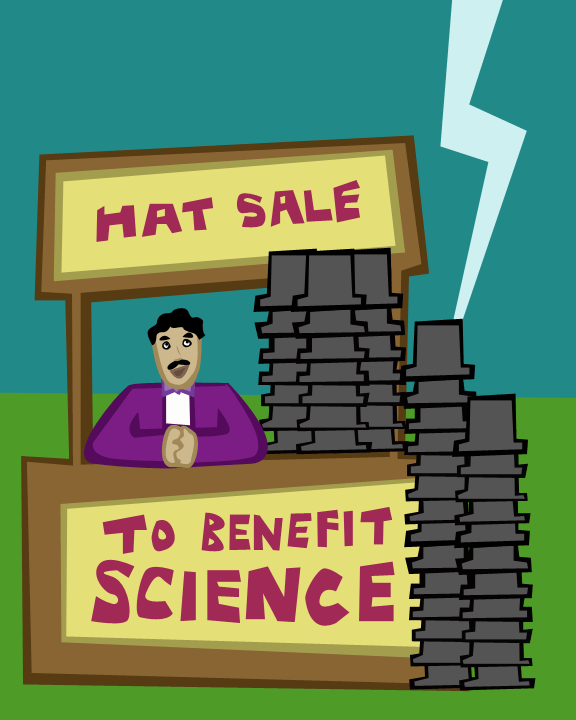 Also, someone BOUGHT one of the Tesla tee shirts! Was it YOU? Whoever bought it, let me know how the quality is as I sold it through a company I've never used before.

In other news, I got to spend a lot of days with
liret! We went to Five Napkin Burger and Mee and best of all, we went to try the new restaurant that opened up across from my apartment. It is called Horus Too and...um. They have hookahs. So I think I am going to have to go back for a hookah sometime. In the meantime, they gave us FREE TEA TO WAIT while we sat and waited for our takeaway order. I got yummy falafel.

Then we took Jess back to the land of Willimantic where the frogs are hippity hoppity all the long day, and went to Ocean State Job Lot, where I, um, bought $50 worth of yarn. It was amazing. They had ridiculously fancy yarns for like $2 a skein so I am all stocked up on yarn. They also had Bob's Red Mill grains and things super cheap, so I have lots of those too.

I had a dream last night that I don't remember much of except that there was this little pixy thing flying around giving people gifts with little rhyming couplets and they gave this little boy, Wally, an eraser and the rhyme went "With this eraser and this jelly, Wally will finally learn to spelly."

I have no idea either.

Oh oh! A couple other things. One, I have been watching the original Star Trek on CBS.com, because, you know, it's there, and I feel silly trying to have intelligent conversations about it when I haven't really seen it since I was a kid. But in the process of watching it, I discovered that they have a ton of old shows, including both seasons of Twin Peaks, up on the site. Most of you know that Twin Peaks is my all-time favorite TV show, so I highly recommend taking advantage of this!

Two, I am reading Neil Gaiman's The Graveyard Book and will eventually have something intelligent to say about it particularly in juxtaposition with From the Dust Returned by Ray Bradbury, which I think is a very similar book. I think I like From the Dust Returned better, but there is a really nice overall feeling to both of these books and Neil Gaiman is definitely echoing Bradbury in it.

Oh god, and finally:


liret: DID YOU GIVE ME BACK MY KEYS? If not, please mail them to me ASAP! I need them for when Nikki and Sean are here.


opaleyes and
craterchest, I've been invited to a drink & draw Friday night that will include massive amounts of cupcakes and drawing with awesome artists...only, it's women only. I would like to try to go for at least a little bit and Nikki would obviously be invited and Sean...you can wear a wig? I just wanted to give you a heads up so we can figure out planning around things.


pierrelle, I finished your hat! Message me your address and I will put it in the mail!