I keep wanting to post about things and then forgetting!

1) Last night, I had a dream. You know NOM, the most poorly-named organization in the world, because when they want you to hate gays all you can think of are fuzzy kittens eating things? I had this dream that some reporter looked into where they were getting their funding and discovered that "$68,000 in funding for NOM all came from the same small, gated community in New England."

Then the news segment that the reporter was doing took him to the community responsible for this outpouring of support for either homophobia or adorable hungry kittens I am not sure which?

Stepford, Connecticut.

It was the most lolarious thing ever. Only I only realized how funny it was when I woke up. In the dream, no one knew that half the town was robots.

2) I went out to dinner with my friend Jo on Tuesday night. We were sitting outdoors at a sidewalk cafe sipping cocktails when Michael Emerson walked by on the sidewalk outside the restaurant.

Now, I am a born and bred New Yorker and I live right near the theater district. I see some kind of celebrity of varying renown on an almost-weekly basis and don't get fussed about it, but I swear, if there had not been a large metal barrier that I was in danger of knocking over, I would have jumped up and given him a hug. Or a ham. I am not sure which.

3) I am working on people's Tesla art! I have just had a busy week at the job and the second-job.

4) Mostly because of a drawn out facebook exchange with
dianamcqueen, I made a huge bowl of potato salad last night. I did not eat it all, it is in my fridge. I also made strawberry compote that was still gelling when went to bed last night. Mmmmm.

6) Work announcements! I love when I can announce stuff that is going public! One, we have this awesome new feature running on Comics Kingdom called Captionary, where five awesome cartoonists are providing captionless cartoons, and you can submit your own captions to be rated. Here's Captionary on the New York Daily News, but you can also check your local newspaper to see if they're running it.

7) ALSO in work news, Hayden Christensen may or may not be appearing in the film adaptation of "Mandrake." Regardless of whether Christensen is in it, all I have to say is if it is anything similar to the treatment I saw (which it sounds like from the press releases), it will be kickass. It also sounds like Djimon Hounsou is playing Lothar, which sounds like perfect casting to me.

8) I am working on a little project for MoCCA. Every time I go to a convention, people give me all kinds of free stuff and I always feel bad that I have nothing to trade with them, that I'm just taking their freebies. So I decided that this year, I would put together a mini to give to people as a trade. I'm 13 out of 14 pages into it (it'll be 16 pages including covers), and I decided to post up an image.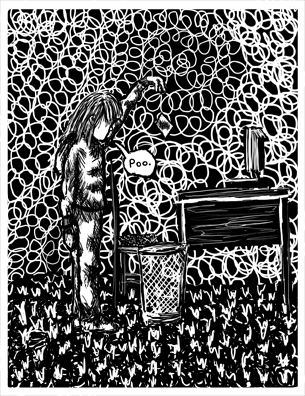 The thing is that I have been drawing so much the past few weeks between the Tesla stuff (which isn't the same process, being vector art) and the mini, which is called "Have You Seen This Ghost?" that I can visibly see the improvement even in the 13 pages of the mini that I've done. It is funny, when you get into a drawing groove, how quickly it comes back to you. I've also really taken the art in the mini in a specific direction that I need to go back and revise the first two or three pages to fit the same sort of tone and style.