For this topic, I've drawn two separate comics.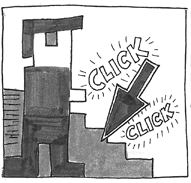 Transcript:

TEKNAWLOHJEE

Panel 1: There is a very old-school computer mouse (single button) and little Tea is wearing a unicorn tee shirt with pink hearts and looking at the mouse in terror
1985
Little Tea: WHAT IS THIS THING?!

Panel 2: Little Tea has the mouse hooked up to a computer. The computer parts are labeled "16 Color Monitor" and "Giant CPU"

LIttle Tea: It is called a Mouse. You click it and it moves the cursor to where you want it to go. Sort of.

Panel 3: Tea is playing on a computer. She is clicking the mouse. A little man is running on the computer screen.
Little Tea: Wow!

Panel 4: A picture of the little man, close up. He is very pixellated. The arrow is clicking on or near some stairs or a cliff or something.
Cursor: CLICK CLICK

Panel5: The man has fallen off the stairs-cliff-thing.
Sound effect: FWOOSH!

Panel 6: Little Tea looks traumatized
Little Tea: MY MAN DIED.

Panel 7: Little Tea looking even more traumatized
Little Tea: Mice are hard.

Panel 8: Tea's hand on the arrow keys of the computer keyboard.
Little Tea: Oh keyboard, never forsake me.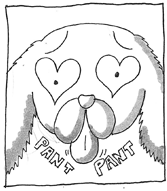 Transcript:

CANCER DOG (title has a picture of dog's face)

Panel 1: Tea answering the phone
Tea: Hello, Dog Rescue! How may I help you?

Panel 2: Voice coming out of the phone.
Voice: Hello! This is Charlie's Mom. The vet says Charlie has cancer, so I don't want him anymore. I'd like to return him.

Panel 3: Tea, looking kind of pissed off.
Tea: Uh. What.
Voice: Are you around tomorrow so I can drop him off?

Panel 4: The Vet and Charlie, smiling. Charlie is a very large dog (Great Pyrenees to be exact)
Vet: Good news! We were able to remove the tumor.

Panel 5: Close up of Vet
Vet: But he should stay away from other dogs while he recovers.

Panel 6: The vet looks on while Tea crouches down to pet Charlie.
Tea: Okay, Cancer Dog. I guess you'll be staying in the office with me!
Charlie: Woof!

Panel 7: Tea is on the computer. Charlie is watching.

Panel 8: Tea's hand on computer mouse.

Panel 9: Charlie's paw pushes Tea's hand off the mouse.

Panel 10: Tea looks annoyed.
Tea: Hey! Can't you see I'm trying to work?

Panel 11: Close up of Charlie with giant hearts for eyes.
Charlie: Pant pant

Panel 12: Tea with a sort of gooshy expression.
Tea: Awwww

Panel 13: Charlie's tail is wagging as he licks Tea's face. Tea hugs Charlie in return.
Charlie: Kiss!
Tea: Okay, okay! I get it!



This entry was written for
therealljidol Week 6: One Touch